---
Downtown Atlanta: Land + Water + City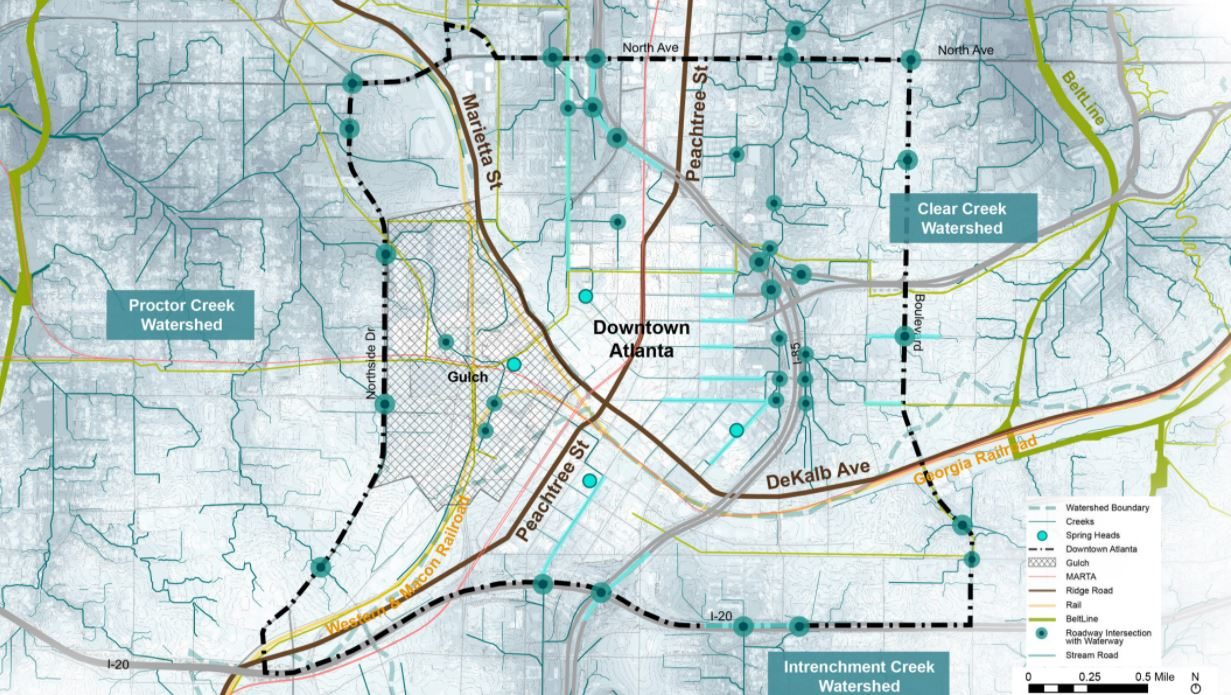 The Green New Deal Superstudio, sponsored by the Landscape Architecture Foundation addresses the congressional plan for attacking climate change. The goals are to reduce greenhouse gas emissions in an effort to avoid the worst consequences of climate change, while also trying to fix society's most prevalent issues such as economic inequality and racial injustice. The brightest minds across the nation are stepping up to the challenge to develop a collection of proposals that translate the vision of the Green New Deal into applicable realities.
Our first stop: Atlanta, Georgia.
Atlanta is a city on a hill within the foothills of the Appalachian Mountains, making downtown the contributing nucleus of a damaged ecological landscape. Its disconnected and fragmented urban form houses a constant conflict between infrastructure, watershed, and downtown communities. At the top of this foothill lies an intersection with our past, present, and future including:
The intersection of two Creek Indian trails, the Pitch Tree (corrupted to Peachtree) Trail and the Sandtown Trail.
Five Points Atlanta: the convergence of Marietta Street, Edgewood Avenue, Decatur Street, and two legs of Peachtree Street
Woodruff Park and Five Points Station, the hub of regional transit, a core to Georgia State and the City of Atlanta, and where the ridges and valleys of our cities meet at a nexus point where flows originate.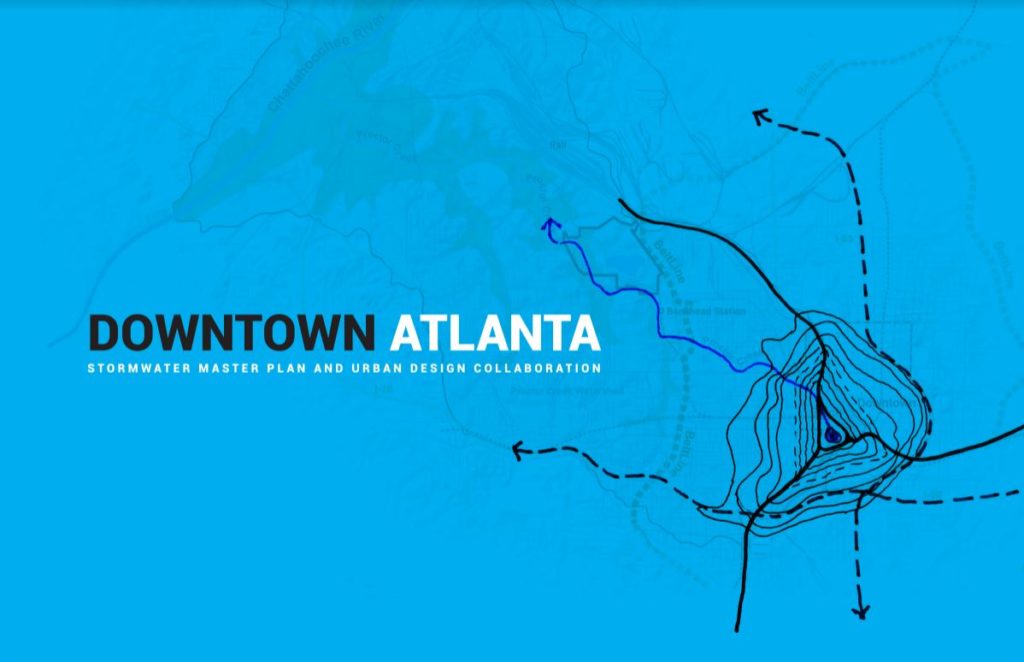 We asked ourselves:
What if Downtown became connected to the surrounding city and region in many ways: with watersheds taking on increased importance for the ecological future of downtown, the city and the region?
As part of the Green New Deal Superstudio; Sherwood worked with Georgia Institute of Technology, the Georgia Conservancy, Atlanta City Studio, and Downtown Atlanta to establish a basin specific kit of parts of stormwater management strategies to be employed throughout the Downtown area on a hierarchy of streets, blocks, and plazas to activate spaces, manage runoff at the headwaters to reduce downstream flood impacts, and create increased comfort for outdoor space during hot and humid conditions. This kit of parts is catered to a story of the city past and present meant to restore natural tendencies while leveraging urban form and green infrastructure.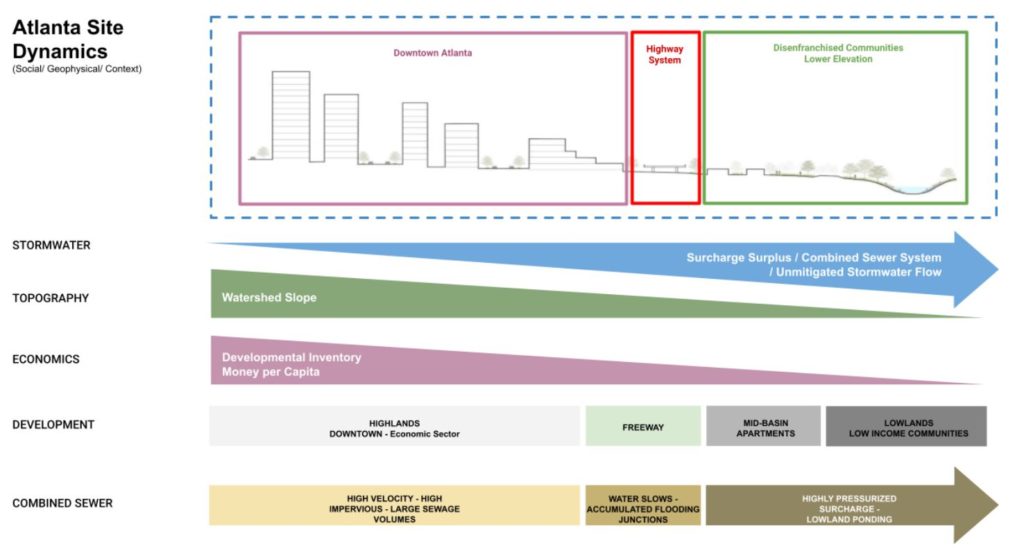 Taking these kits of parts we start at the top of the hill, the core of our city; Woodruff Park, the Peachtree Ridge, and Five Points and work our way down to the fringes of Downtown, through the Highways, and into the disenfranchised lower communities to knit together a social and ecological framework for future development acknowledging our past, present, and future.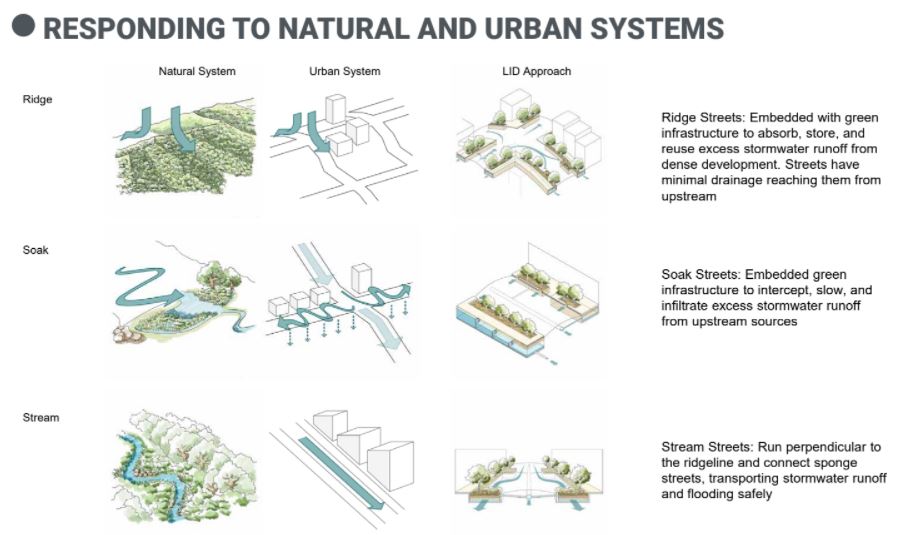 "The more clearly we can focus our attention on the wonders and realities of the universe about us, the less taste we shall have for destruction."
― Rachel Carson – Author of "Silent Spring"
---